After spending months or even years planning for your big day, confidence in your photography team to capture all the best moments is a must! With any one of our wedding photography packages, you get access to our team of photographers who have years of experience photographing hundreds of weddings, giving you peace of mind that your happiest day can be re-lived over and over with the highest quality wedding photos!
No matter what style of wedding you have chosen, how you have structured your day, or how many guests will be attending, our wedding photography packages can accommodate weddings of all shapes and sizes. Every wedding is unique and it is our priority to capture all the things that make your day special to you, such as the love you share with your significant other, family and friends.
View highlights from our most recent weddings, to help you decide which wedding photography package is right for you, by visiting our blog and checking out our Wedding Features!
The moments after you say "Yes!" are filled with love and excitement, and is a time you can always look back on to remember the love you have shared over the years. In all the excitement leading up to your wedding, we're here to help capture this special time by including engagement photography services in our wedding photography packages! We don't want you to miss a moment, so we make sure we're there to capture it.
Many couples haven't experienced being photographed by a professional prior to their engagement, which is why we offer our engagement photography services to help guide you through the process. We want you to be as comfortable as possible during the day of your wedding, so we shake out all the jitters ahead of time!
From your engagement to your wedding day, our photography team is a resource that is here to answer questions and provide photography related advice, creating a seamless experience as you make your way to the altar. Our goal is to capture your truest moments, so you can relive them for the rest of your life.
Learn more about our engagement photography services and wedding photography packages by contacting us with any questions. And, don't to forget to check out our Blog's Engagement Features!
6 Hours of Wedding Day Coverage

2 Photographers

600 -700 Beautifully Edited Images

Highlight Gallery Included
Online gallery to share with family and friends

High Resolution Digital Download of all Images

Personalized Drive with all Images

Full Printing Rights to all Images
4 week delivery

1 Hour Engagement Session


8 Hours of Wedding Day Coverage

2 Photographers

800 -900 Beautifully Edited Images


Highlight Gallery Included
Online gallery to share with family and friends

High Resolution Digital Download of all Images

Personalized Drive with all Images

Full Printing Rights to all Images
4 week delivery


1.5 Hour Engagement Session
16x20 Fine Art Canvas
10 professional print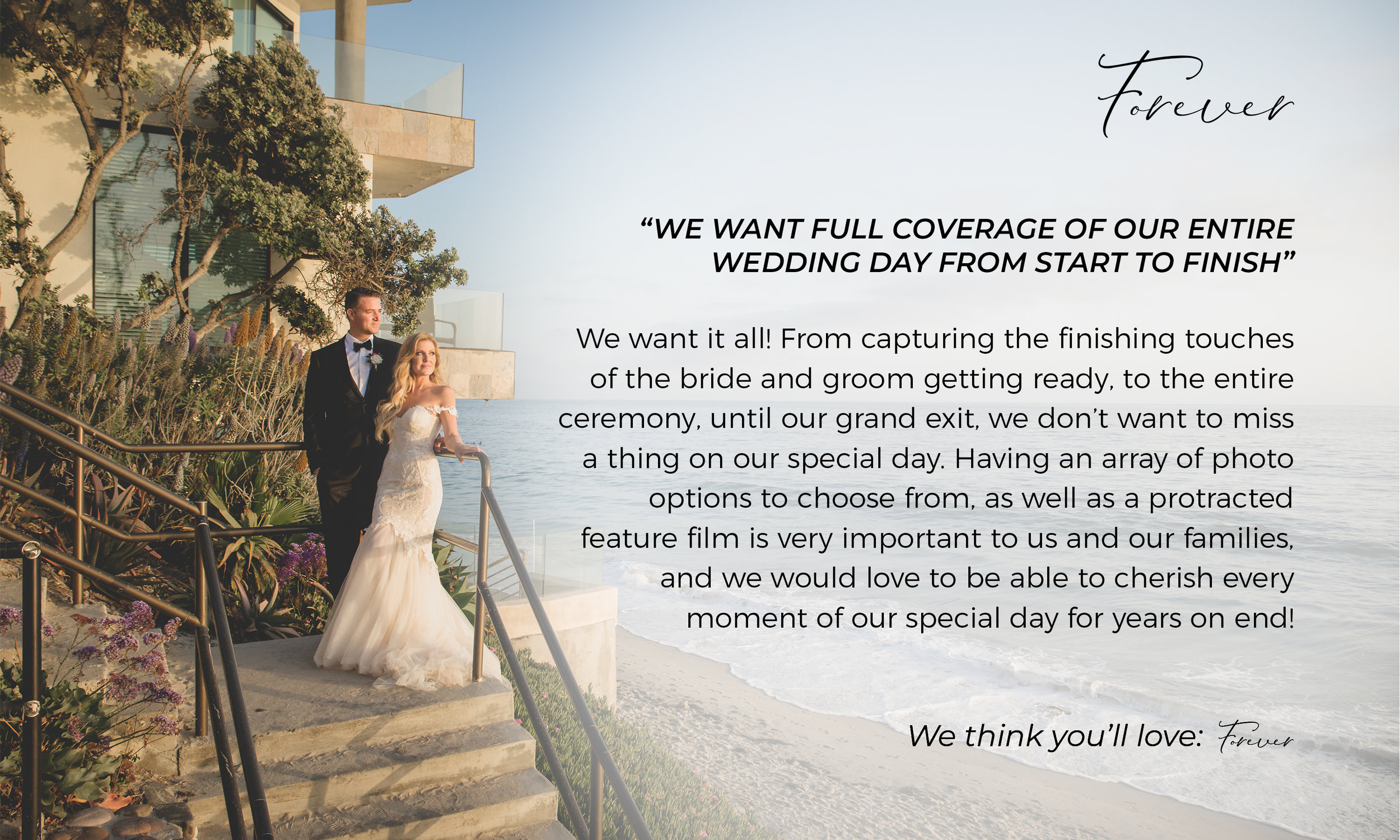 10 Hours of Wedding Day Coverage

2 Photographers

1,000 - 1,100 Beautifully Edited Images

Highlight Gallery Included
Online gallery to share with family and friends

High Resolution Digital Download of all Images

Personalized Drive with all Images

Full Printing Rights to all Images
4 week delivery


1.5 Hour Engagement Session
16x20 Fine Art Canvas
10 professional print
Classic Album